The organized unit of United Methodist Women shall be a community of women whose PURPOSE is to know God and to experience freedom as whole persons through Jesus Christ; to develop a creative, supportive fellowship; and to expand concepts of mission through participation in the global ministries of the church.
Our United Methodist Women offer five different circles for women to join. All of our circles have various mission projects throughout the year. Each year a portion of their money raised goes to Mississippi United Methodist Conference Mission Projects, including Moore Community House in Biloxi and Edwards Street Mission in Hattiesburg.
Carolyn Barrentine Circle
Ladies, if you have not found a UMW Circle home and are looking for Christian Fellowship, the Carolyn Barrentine Circle is inviting you to join us in our monthly meeting. Our organization exists to deepen each member's spiritual life and to lend support. We nurture and encourage one another in our spiritual growth and personal development. Membership in Carolyn Barrentine Circle is open to all women and new members are welcome anytime. UMW is for the woman:
Who finds meaning in her church and is drawn to fellowship.
Who wants to develop creative, supportive fellowship.
Whose life is packed full of activity and obligation and who needs a supportive group to affirm her own sense of prayer.
Who wants to grow with and help expand mission concepts through participating in global ministries of the church.
Ellenita Circle
Meeting Time: 2nd Wednesday, 10:00AM
Location: Usually at a members house. Check with Penny Davis.
Ethel Vaughn Circle
Meeting Time: 4th Monday, 6:30PM
Faith Circle
Meeting Time: 2nd Tuesday, 11:00AM
Location: 39'ers room, FLC
Faith Circle is an organized unit of United Methodist Women whose purpose is to:
Know God through Jesus Christ
Develop friendship through supportive fellowship
Share in community concerns through participation in various projects
We invite you to attend any of our monthly meetings and enjoy the fellowship of our group.
UMW Prayer
May the words of my mouth,
And the meditations of my heart,
Be acceptable in thy sight,
Oh Lord, My Strength,
And My Redeemer.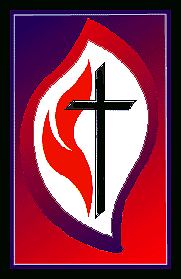 The official emblem for The United Methodist Church combines the cross and a flame symbolizing the Holy Spirit. The emblem for United Methodist Women likewise includes the cross and flame.
The cross and flame are ancient symbols of the church dating back to the days of Christ and Pentecost. Each evokes images of sacrifice, witness, and service. They remind us of both the opportunities and obligations of discipleship. Paul's ancient words to Timothy have fresh and contemporary meaning: "…I now remind you to stir into flame the gift of God which is within you." (II Timothy 1:6a-NEB)
As part of the emblem for United Methodist Women, these symbols remind us of our PURPOSE of helping women to grow in their understanding of, and willingness to participate in, the mission of the church. These also remind us of our heritage, of women who pioneered in service for the church at home and abroad and in organizing women for mission service and support in many areas of need.
The shape of the emblem is likewise symbolic. It is fluid and free-flowing; suggesting change and mobility. As organized groups of women, this has been our heritage. Often at the forefront of movements for change, at times supporting the projects initiated by others, we strive to be aware of the times and to move with events rather than be overwhelmed by them.
The cross, the flame, and the individual with her abilities and opportunities–all are elements of a vibrant, contemporary movement for United Methodist Women.